BUPRENORPHINE TREATMENT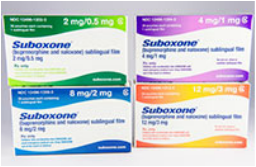 SUBOXONE® (BUPRENORPHINE) TREATMENT

THE CHARACTERISTICS OF OPIOID DEPENDENCE

Opioid dependence is a disease characterized by biological, psychological, social and spiritual changes.

Biological changes include the need for more opioids to produce the same effect, withdrawal symptoms, craving, and changes in sleep architecture.

Psychological aspects of opioid dependence include a reliance on opioids to help cope with everyday problems or an inability to feel a sense of well-being without using opioids or other drugs and alcohol.

The social changes of opioid dependence include less frequent contact with significant people in your life, and an inability to participate in daily activities because of drug use. In some cases, there may even be criminal and legal consequences to your opioid dependence.

There is also a spiritual component to opioid dependence and all addictions, characterized by a sense of emptiness and lack of purpose and meaning in life.

The key features of opioid dependence are the continued use of opioids despite their negative effect, the need for increasing amounts of the opioid to have the same effect (tolerance), and the development of withdrawal symptoms upon stopping use.

There are a many reasons someone continues to use opioids despite the harm it has caused. Some of the reasons are: to help cope with everyday life in order to appear functioning; the need to use more because of tolerance; the continued desire to chase a "high", and most often cited--to avoid withdrawal.

MEDICAL TREATMENT AND LONG-TERM RECOVERY

Recovery from opioid dependence, with or without medications, will likely be a life-long process. Use of medications on a long-term basis to enhance remission is as valid a process as not using medications, but medications alone cannot address all of one's difficulties in recovery.

As many recovering addicts will attest, stopping is often the "easy" part, it is "staying stopped" that is difficult and in tragic circumstances relapsing can lead to death.

The key to long-term cessation of active addiction is adopting new behaviors and practicing new coping skills. Recovery involves hard work, honesty, commitment, discipline, and a willingness to examine the broad effects of opioid use on your life.

During the detoxification phase, it is common to be anxious, angry, and frustrated as you experience varying degrees of withdrawal. Medications such as SUBOXONE® reduce withdrawal symptoms and significantly reduce the possibility of relapse. However, over time a pill will not be able to: solve all problems, change all negative beliefs and attitudes and always alter mood. Being on SUBOXONE® does not guarantee that one will avoid relapse.

Necessary changes must be made according to where you need to develop and how opioid dependence has affected your life. The following are some areas of change to consider when developing your treatment and recovery process:

Biological: balanced and nutritious diet, exercise and physical movement, sleep and relaxation.
Psychological: stress reduction and manageability, awareness of emotions and thoughts affecting mood, coping with negative emotions as they arise
Social: developing healthy, enjoyable relationships; avoiding social situations that trigger relapse; cultivating supportive relationships with those also going through the recovery process; becoming responsible in friendships and at work or school; examining the impact of opioid use on your family; encouraging family involvement in treatment; mending relationships with family members when appropriate, understanding family dynamics and how to build healthy interactions
Spiritual: developing a healthy inner core and self-esteem to help navigate life's challenges, creating a renewed sense of purpose and meaning.

YOUR INDUCTION VISIT – A GENERAL OVERVIEW

After your comprehensive initial evaluation visit which includes a complete history and physical exam, laboratory and urine testing, and breathalyzer if appropriate--the risks and benefits of the medication SUBOXONE® will be discussed with you either during that initial evaluation or during the induction visit.

Treatment expectations, as well as issues involved with maintenance versus medically supervised withdrawal will be discussed with a consent and agreement form signed prior to induction. This office will not store and dispense your SUBOXONE® prescription for the duration of treatment. A trusted family member or friend will help you pick up your detoxification medications and/or SUBOXONE® and bring it to the office for administration.

INDUCTION

You will be switched from your current opioid to SUBOXONE® sublingual film or tablet. Instructions on how to take it will be explained. Never swallow SUBOXONE®.

At the time of induction, you will be asked to provide a urine sample to confirm what drugs are or are not in your system.

You must arrive for the induction visit experiencing at least moderate opioid withdrawal symptoms that will be determined by a withdrawal scale.

Your response to the initial dose will be monitored. You may receive an additional dose in approximately 30-60 minutes, if necessary, to reduce any persistent withdrawal symptoms.

Since your tolerance and reaction to SUBOXONE® may vary from what might be expected, you may need to return for daily follow ups or at a minimum be in contact by phone so that your dose can be adjusted until you no longer experience withdrawal symptoms or cravings. Urine drug testing is usually performed at every office visit in the early stages of treatment.

STABILIZATION

Once your dose of SUBOXONE® is established, you will stay at this dose, it is usually no more than 16mg. Treatment options will depend on your individual circumstances whether you continue on maintenance SUBOXONE® therapy or are tapered off.

If you are being detoxified using SUBOXONE® you will be tapered off quickly from your stabilization dose. Withdrawal symptoms off SUBOXONE® are generally milder compared with withdrawal from other opioids. Other medications will be available for the residual withdrawal symptoms once off SUBOXONE®.

MAINTENANCE

A signed consent and agreement must be in place prior to the start of SUBOXONE® maintenance. Treatment progress and adherence will be closely monitored.

Participation in some form of mutual support group is strongly recommended and in some circumstances required to ensure the best chance of treatment success. You will also be referred to some form of individualized behavioral counseling such as a therapist in the community who specializes in addictions.

In the first month, your progress will be monitored weekly, and you must return for an office visit to receive your weekly refill of SUBOXONE®.

As your recovery progresses in a positive direction, you will only need to come in for monthly visits and refills. A month's worth is the maximum amount of SUBOXONE® that can be prescribed at one time. Maintenance therapy can last from weeks to months. It is preferable in my practice to attempt weaning off SUBOXONE® after about 18 months if it has not been tried before then. If you relapse during maintenance, and we decide continuing SUBOXONE® is medically necessary, then you will return to weekly monitoring until you stabilize again.

MEDICALLY ASSISTED WITHDRAWAL

You may undergo medically supervised withdrawal from SUBOXONE® as part of your detoxification or after you have been on SUBOXONE® for some time. In general, opioid withdrawal symptoms include the following:

Craving Restlessness Yawning Insomnia Irritability Muscle cramps
Runny nose Tearing Goose-flesh Nausea Vomiting Diarrhea

As mentioned above, withdrawal symptoms off SUBOXONE® are generally milder (although not always) compared with withdrawal from other opioids. Other medications will be available for withdrawal symptoms once off SUBOXONE®.

Do not give up on treatment during this difficult phase of withdrawal by relapsing on opioids or other drugs including alcohol and marijuana. To cope with withdrawal symptoms, try keeping things simple, be gentle on yourself, know that this will pass, and gather the support of family and friends.
---
Copyright © Chwen-Yuen Angie Chen, MD 2013-2020. All Rights Reserved.